HI, I'M ANDREW NEAL. I write, draw, and self-publish Meeting Comics, which is a comedy soap opera comic for grownups that began as a straight-up gag comic. You can read it on Patreon, in print, or as a PDF (gumroad store disabled, new option for PDF coming soon). There are new pages most weeks at the patreon and new issues for sale as they're ready, every few months! There is also a book collection from Adhouse Books. You may be able to find the book in the wild, but as it's functionally out of print for now, you might need to order from me! I also occasionally write about comics and conduct interviews with cartoonists.
NEW ISSUE DUE IN AUGUST!
You can preorder Meeting Comics #28: SMOOTH MOVES through my webstore! It includes a new story, single page gag comics I've drawn over the last year, and a reprint of the classic Meeting Comics spinoff minicomic, 320 Shades of Greg: a Meeting Comics Erotic Thriller. Here's a slideshow of the cover, the inside front cover, and a few pages:
UPCOMING APPEARANCES!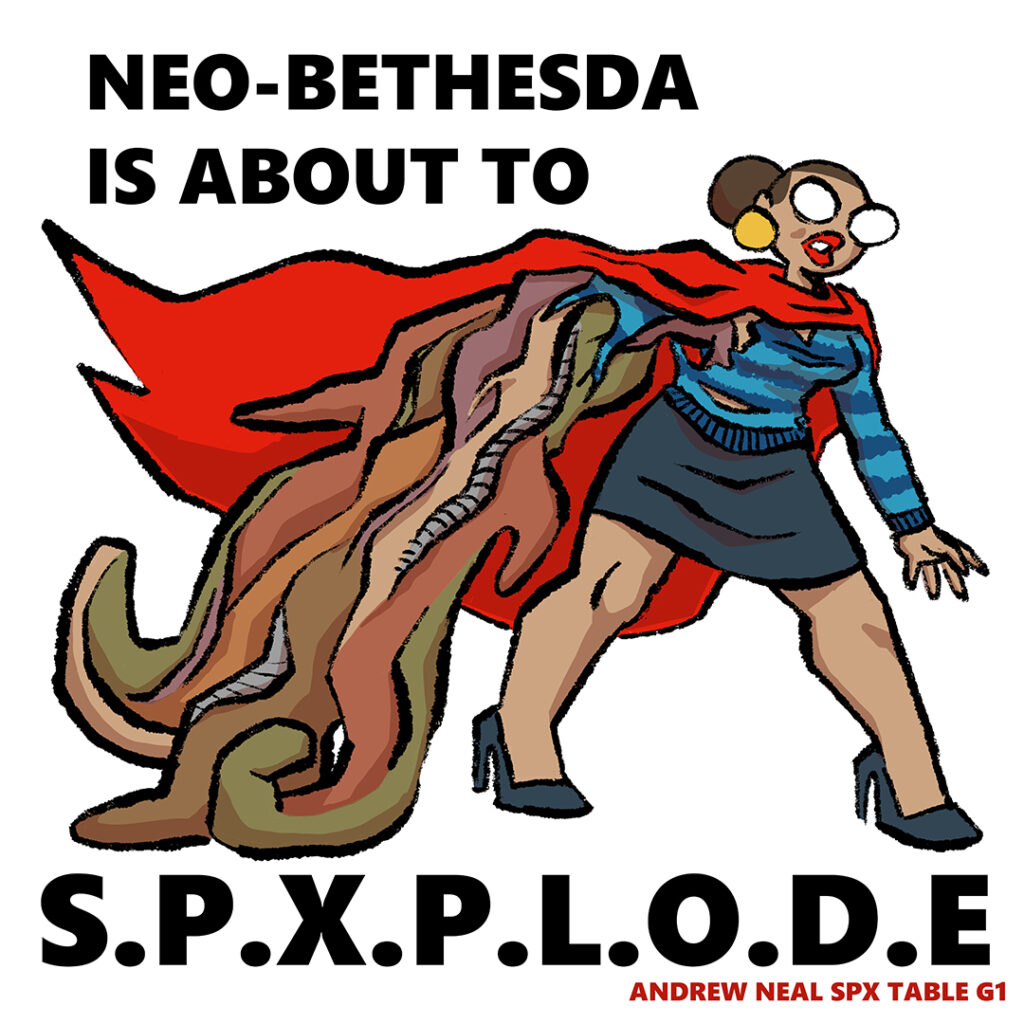 SAT/SUN: SEP 9/10 Small Press Expo, BETHESDA, MD
SUN SEP 24: End Paper NCMA Book Fair, NC Museum of Art, RALEIGH
SAT/SUN SEP 30/OCT 1: Cartoon Crossroads Columbus – CXC, COLUMBUS
SAT OCT 7: Richmond Zine Fest, RICHMOND (pending acceptance)
SUN OCT 15: Zine Machine, DURHAM
QUOTES! BLURBS! PRAISE!
"…MEETING COMICS is the kind of thing a person can check out an issue or two of at their leisure, pick it up again a couple days (or even WEEKS) later, and be drawn back in like there was no interruption. You know, kind of like how it goes when you see old friends again."
– Ryan Carey, Four Color Apocalypse
"Andrew Neal's evolution as a cartoonist in his Meeting Comics strip has been fascinating to watch. He transformed it from an inchoate series of gag panels to an absurd but fully fleshed-out narrative chock full of complex, layered characters."
– Rob Clough, High Low
"I tell you what, I had some doubts about the wisdom of reviewing every single issue of this series (that Andrew was nice enough to send me) instead of just doing the collected edition and a few random issues. Seeing it all unfold this way is just ridiculously impressive, as this is not a collection of characters that I would have guessed would turn into a coherent story. And yet!"
– Kevin Bramer, Optical Sloth
"Where the Rent Went is full of excellent characters, a solid plot, and art that is just dreamy. The chaos of the house, the shows, and the characters is highlighted by Neal's dynamic use of patterns, texture, and lettering."
– Sidney Drmay, Broken Pencil Magazine
"…the most tasteful drawing of a penis I have ever seen."
– Rick V, Razorcake
SAMPLES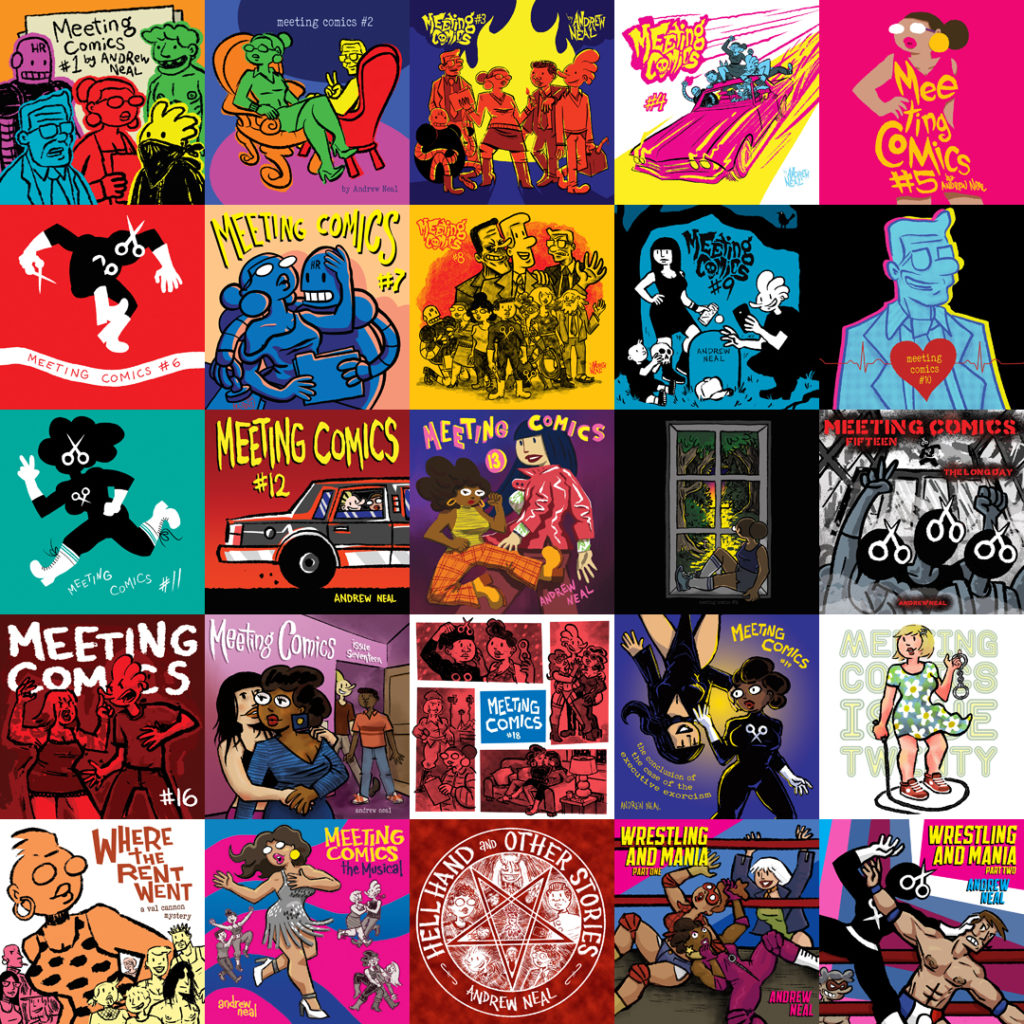 Want to try before you buy? Click here for a page with samples of all issues of Meeting Comics!
MY PATREON– Read the comics with commentary! Subscribe to issues of Meeting Comics!
BUY PRINT COMICS AND STICKERS– Meeting Comics in print! Stickers!
BUY DIGITAL COMICS – Purchase Digital Editions of the print comics!
BUY APPAREL– Purchase shirts at my Spreadshirt store! Meeting Comics and other designs!
SOLRAD Presents – as of May, 2020, Solrad is serializing Meeting Comics starting with issue 7, which immediately follows the book collection from Adhouse.
Instagram / Twitter / Facebook – As of January 1, 2021, Meeting Comics is no longer free to read on social media, but you can still see preview images of comics along with pictures of my perfect cats.
ACCOLADES / REVIEWS / INTERVIEWS:
Reviews of all individual issues of Meeting Comics at Optical Sloth by Kevin Bramer
Review of Meeting Comics #1 through #26 by Ryan Carey
Review of Hell Hand and Other Stories at Razorcake by Tricia Ramos
Review of Meeting Comics: The Musical at Razorcake by Tricia Ramos
Review of Where The Rent Went at Broken Pencil by Sidney Drmay
Review of Where The Rent Went at Razorcake by Rick V
Review of Where The Rent Went at Razorcake by Jimmy Cooper
Review of Where The Rent Went at High-Low by Rob Clough
Review of Meeting Comics at High-Low by Rob Clough
Review of Meeting Comics at Graphic Novel Review by Stergios Botzakis
March 26 2020 Interview at The Comics Journal
Artists to Seek Out at SPX 2019 by Rob Clough
DiNKy Awards 2019: Best Minicomic: Nominated
Thank you for checking out Meeting Comics!
Contact: my email is neal at wanderlane dot com.