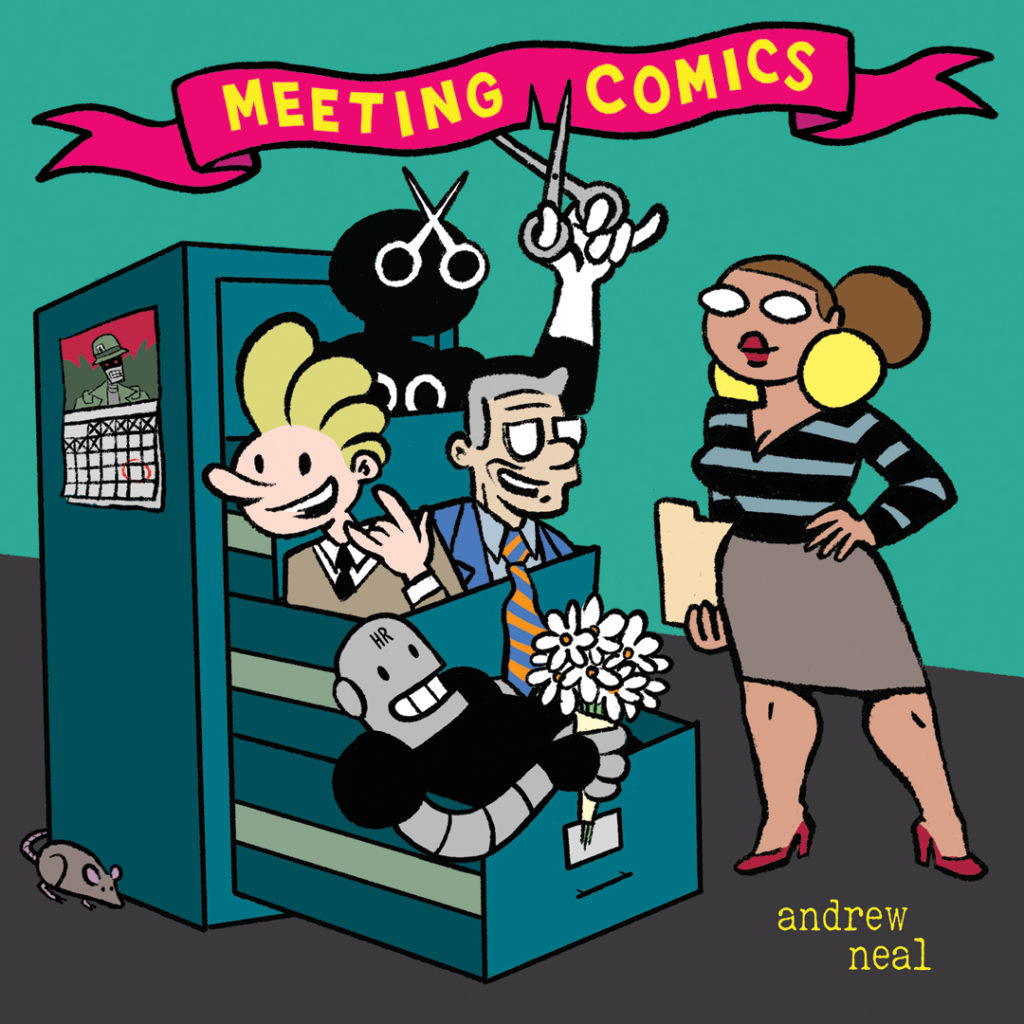 BREAKING NEWS! Meeting Comics: the book will be published by Adhouse Books in February 2020! 160 pages! A mere $14.95! Collects the first six issues of Meeting Comics!
Order through your favorite comic shop with the Diamond Order Code DEC191334! Don't have a favorite comic shop? Maybe one of these retailers is a good match.
Meeting Comics started as a gag comic strip about work and has become a gag comic strip / soap opera about people who work together.
Episodes are posted three times a week, on Monday, Wednesday, and Friday. They are exclusive to Patreon for one week, and then I post them publicly on social media. The Patreon posts have exclusive commentary which I don't reproduce elsewhere.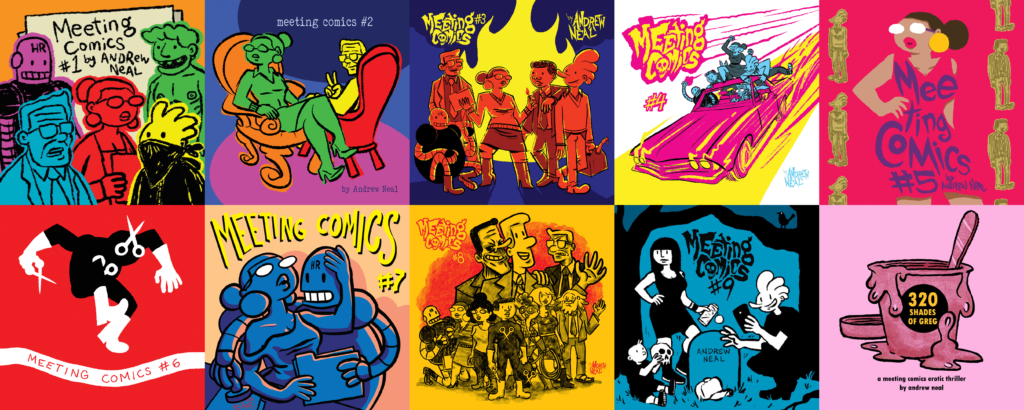 UPCOMING APPEARANCES:

NOICE – Norfolk's Original Indie Comics Expo – Norfolk, VA | Saturday, February 1, 2020, 12pm – 6pm | webpage | facebook page
HOW DO I READ MEETING COMICS?
Patreon– Subscribe at $1 a month to read Meeting Comics a week earlier than everyone else with exclusive content and commentary! Subscribe at $5 a month to receive Meeting Comics in print in your mailbox every 2 months or $3 a month for digital copies every two months!
Instagram and Twitter – Free to read but mixed in with my other social media nonsense! As of April 2019, content on social media appears one week later than patreon!
Print Comics – Order Meeting Comics in print! Back issues, preorders, and subscriptions available! Also available: stickers and other merch!
Digital Comics – Purchase Digital Editions of the print comics!
Brick and Mortar Stores – It's possible your local shop carries Meeting Comics in print! I keep a list of establishments which have ordered copies of Meeting Comics and may still have them!
HOW DO I ROCK MEETING COMICS GEAR?
Threadless – Meeting Comics shirts available here!
See some of my other work at Wander Lane dot Com. Contact information is here.
ACCOLADES:
Artists to Seek Out at SPX 2019 by Rob Clough
DiNKy Awards 2019: Best Minicomic: Nominated
SAMPLES:

Below are slideshows featuring the covers and selected pages from each of the print comics, including 320 Shades of Greg, a Meeting Comics Erotic Thriller, which is only available in print!
Thank you for checking out Meeting Comics!