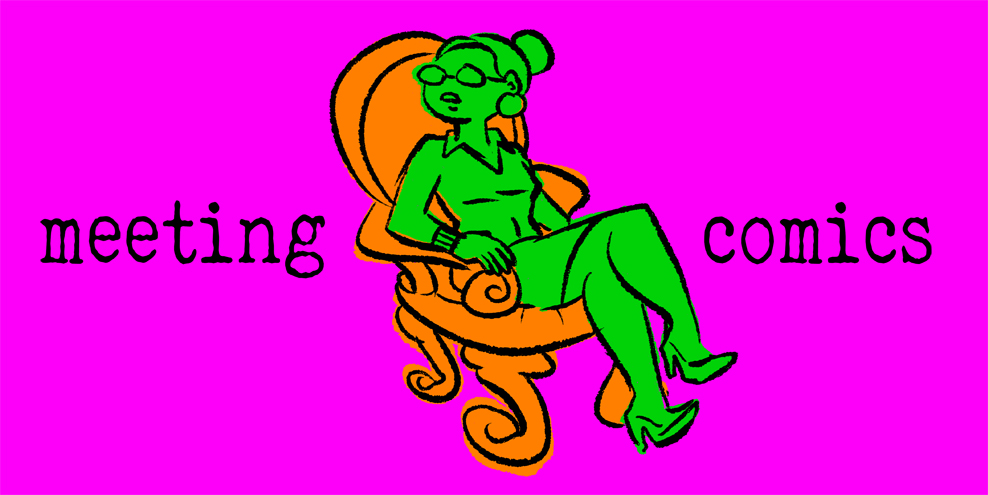 Meeting Comics is published three times a week on Monday, Wednesday and Friday.
UPCOMING APPEARANCES:
Comics Life – Greensboro, NC | Sunday, March 31, 2019, 11PM – 5PM | webpage|facebook event
SPX (Small Press Expo) – Bethesda, MD (at Adhouse table as time allows) | Saturday & Sunday, September 14 & 15, 2019, 11PM – 5PM |  webpage | facebook page
HOW DO I READ MEETING COMICS?
Instagram and Twitter – Free to read but mixed in with my other social media nonsense!
Patreon – Subscribe at $1 a month to read Meeting Comics with exclusive content and commentary! Subscribe at $5 a month to receive Meeting Comics in print in your mailbox every 2 months!
Webstore – Order Meeting Comics in print! Back issues, preorders, and subscriptions available!
Brick and Mortar Stores – It's possible your local shop carries Meeting Comics in print! I keep a list of establishments which have ordered copies of Meeting Comics and may still have them!
HOW DO I ROCK MEETING COMICS GEAR?
Threadless – Meeting Comics shirts available here!
See some of my other work at Wander Lane dot Com. Contact information is here.
Below are the covers to the print comics as well as a generous sampling of Meeting Comics!